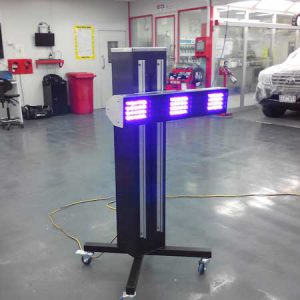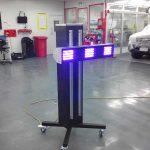 TeslaCure Robotic LED UVA Mobile Unit
฿1.00
Description
Additional information
Description
A WORLD BREAKTHROUGH IN UVA LED CURING
TESLACURE INVENTORS OF THE WORLD'S FASTEST UVA CURING FOR BODY AND PAINT REPAIRS.
UVA PRIMER FULLY CURED IN 30 SECONDS.
UVA CLEARCOAT FULLY CURED IN 3 MINUTES.
UVA PRIMER FULLY CURED IN 30 SECONDS.
UVA FLASH OFF TIMES 3 TO 8 SECONDS.
NO BAKING, COMPLETELY COLD CURED.
NO GAS OR OIL BURN.
NO BAKING, COMPLETELY COLD CURED.
NO ELECTRICITY USED WHEN USING OUR R100 UVA HANDHELD DEVICE.
LESS THAN $ 4.00 PER YEAR TO RUN THE R100 LED UVA.
IT IS NOW POSSIBLE TO COMPLETE BODY AND PAIN REPAIRS IN LESS THAN 4 HOURS TOTAL TIME USING UVA PRODUCTS CURED WITH TESLACURE UVA LED CURING EQUIPMENT.
AFTER SANDING YOUR BODYFILLER, APPLY UVA PRIMER AND REDUCE YOUR FLASH OFFTIMES TO BETWEEN 308 SECONDS USING OUR LED UVA R100 HANDHELD RE-CHARGREABLE CURING DEVICE.
CURING YOUR UVA PRIMER WITH THE R100, TOTAL CURE IS 30 SECONDS TO MAXIMUM OF 2 MINUTES DEPENDING ON REPAIR SIZE, YOU ARE NOW READY TO SAND.
APPLY YOUR WATERBORNE BASECOAT AND FLASH OFFS AS NORMAL, THEN APPLY YOUR UVA CLEARCOAT.
FINAL CURE YOUR UVA CLEARCOAT WITH THE TESLACURE ROBOTIC LARGE ARE LED UVA CURING UNIT. TOTAL CURE TIME IS 3 MINUTES.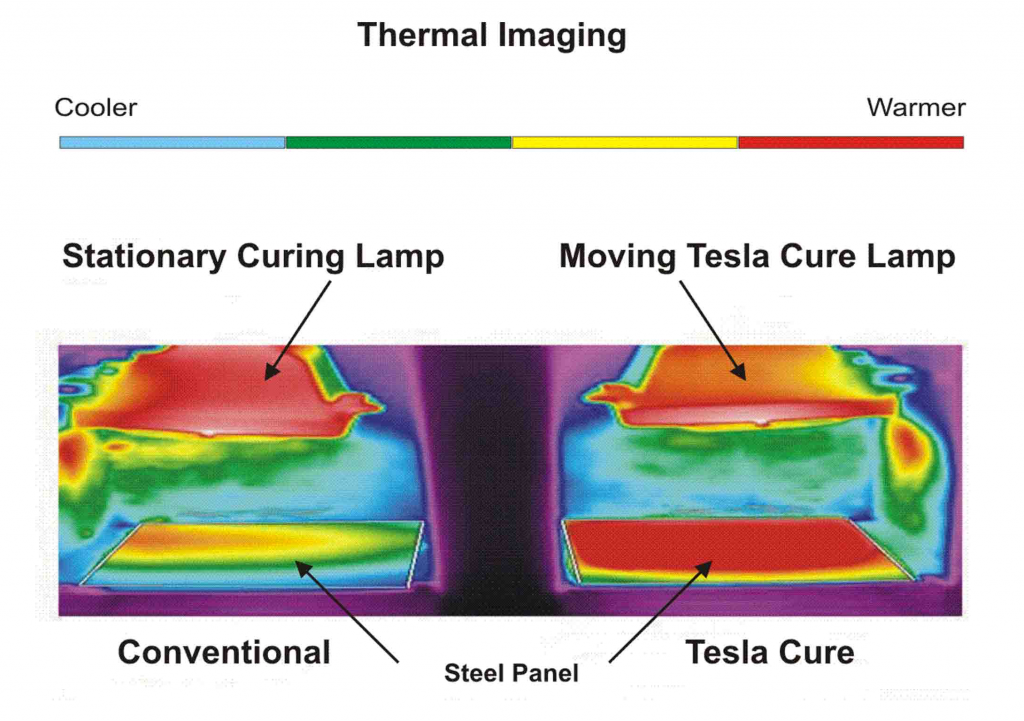 TESLACURE ROBOTIC LED UVA MOBILE UNIT
MAJOR CHANGES IN EFFICIENCY AND NEED FOR SPEED IN UV CURING.
IT IS NOW POSSIBLE TO ACHIEVE BODY AND PAINT TOTAL PROCESS REPAIR TIMES IN 4 HOURS OR LESS USING THE LATEST TECHNOLOGY FROM TESLACURE.
WE BELIEVE IT WILL NOT BE TOO LONG BEFORE YOU SEE RAPID REPAIR FRANCHISE AND PRIVATE GROUPS SETTING UP SMALL TO MEDIUM SIZE RAPID REPAIR SHOPS IN AREAS SUCH AS AIRPORTS, RENTAL CAR COMPANIES, SHOPPING CENTERS AND BUSY CAR PARKING AREAS.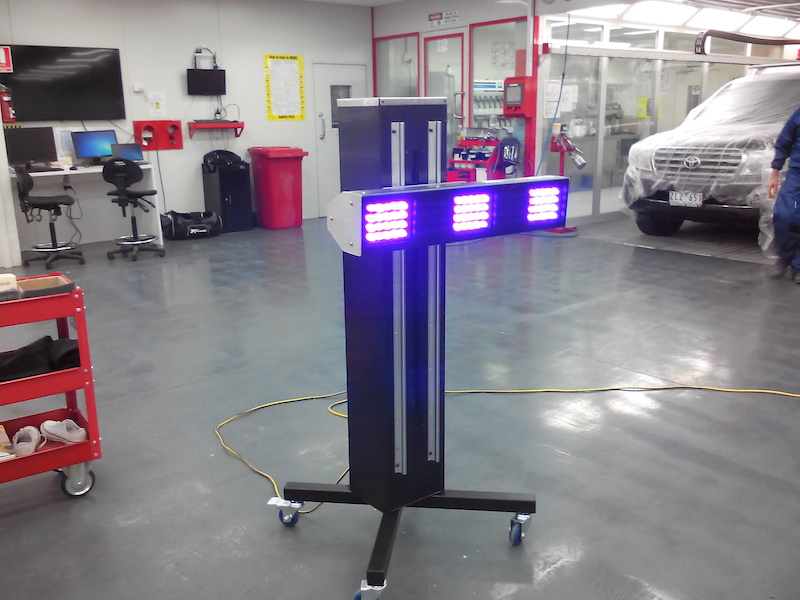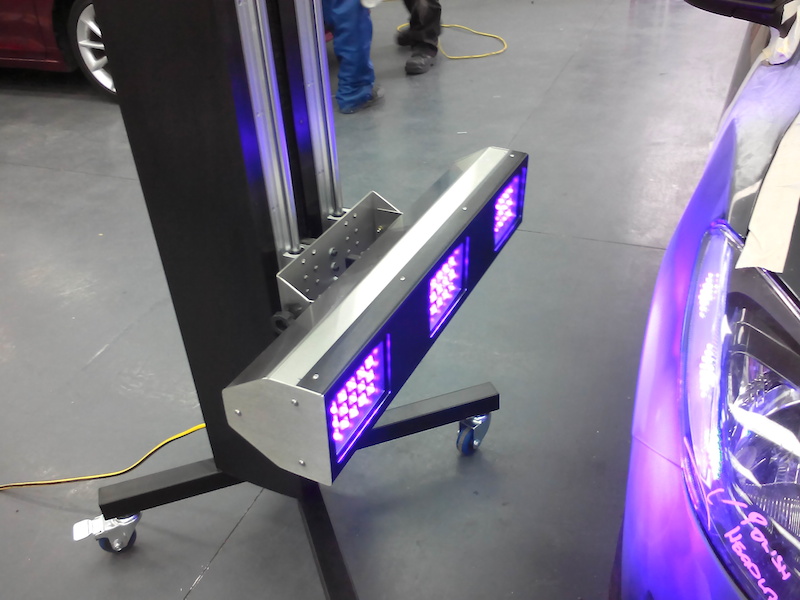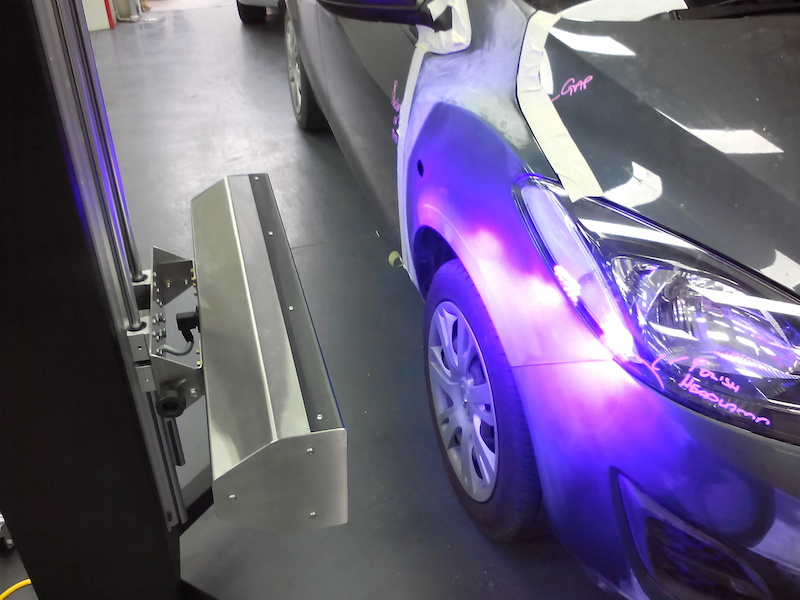 Additional information
| | |
| --- | --- |
| Weight | 12 kg |
| Dimensions | 12 × 12 × 16 cm |